Collecting paper from factories and offices
collecting straight from the customer
The " Company ' is the first in Israel to implement this model for collecting old newspapers from residential buildings. The tenants are encouraged to separate at source recyclable old newspaper from other waste-solid / wet and to drop them in the appropriate plastic bins. In carrying out this action the added value received from the tenants is called "source sorting". Source sorting is one of the important principles on which recycling is based. When we separate the paper from the rest of the waste, it prevents contact with contaminated waste and as a result its recycling value is increased.
It is well known that in countries like Germany, Holland U.S.A. etc, various types of separate collections are executed. The most common are paper, carton, metal, glass, plastic, household batteries and organic waste.
Increase in source sorting will help us to increase the recycling circle.
This method, that is initiated and implemented by KMM, opens the door to collections of additional recyclable materials and leads recycling in Israel towards being more efficient, economic and environmentally friendly. The blue bins are placed in the waste collection room and act as a centralized spot for total separation from the household wet / dry waste (garbage). Presently the Company has around 10,000 such bins all over several cities in Israel and is receiving positive comments from other cities.
Creating a Recycling Spot in every Residential building.
By placing such bins in every building's waste room with appropriate and clear sign boards, the Company creates a "Recyclable Waste Corner". This corner is separated from the household wet / dry waste (garbage) and differentiates between paper waste and regular waste.
Characteristics of the 360 Ltr. Blue Bin.
The lid has an opening for inserting old newspapers. This opening is large enough to insert old newspapers and small enough to prevent insertion of other waste. The lid has a lock preventing opening of the bin by unauthorized personnel. The Plastic bin is colored blue – the International trade mark for recycle and has a label marked "for recycling paper only."
Collecting System
KMM, who leads this project, has purchased a special compacting vehicle- the first of its kind in Israel. The vehicle is small enough to enter every street and reach every address. The collected recyclable paper is then transferred onto a larger compactor.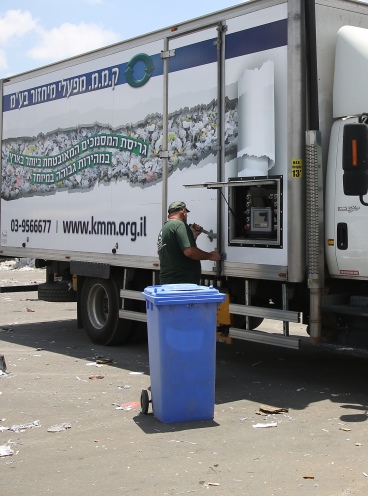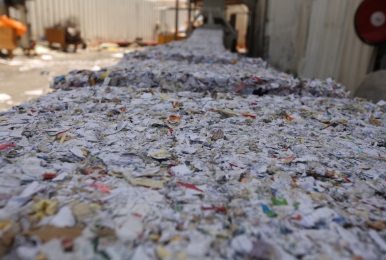 Reduction of Industrial pollution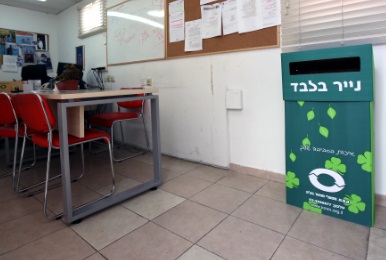 Collecting paper by us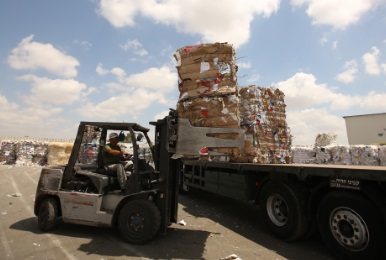 Separation to containers in different sizes
Have a question?
Contact us today for all the details